DOWNTOWN DADELAND - MIAMI-DADE COUNTY
March 16, 2009 updated photos:
The photos below were recently taken and they show the "glass skin" recently applied to the condominium office building.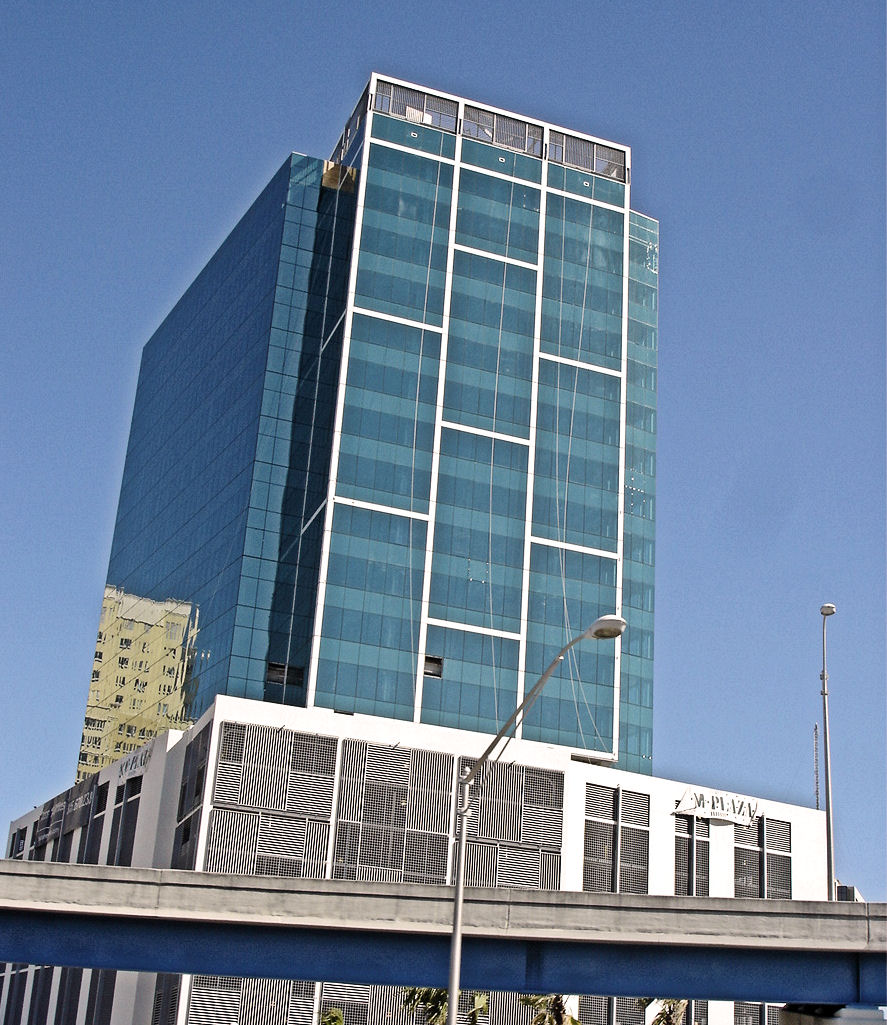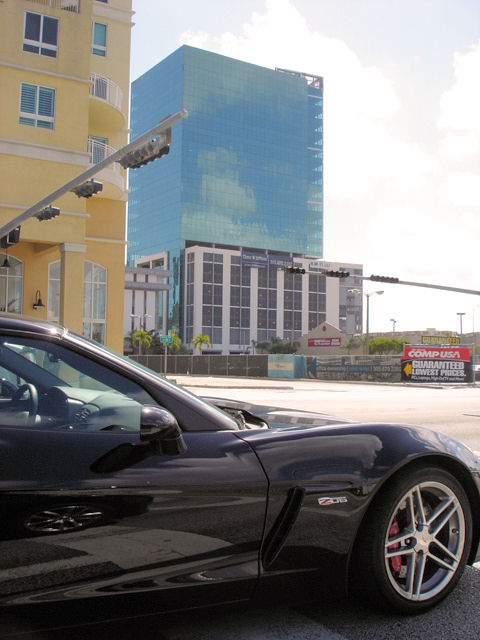 Downtown Dadeland is an approximate seven acre area south of the Dadeland mall, adjacent to the MetroRail Dadeland South station. The area is surrounded by The Village of Pinecrest, South Miami and Kendall.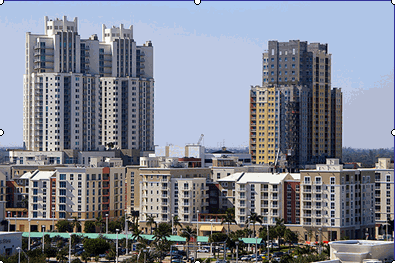 The former Downtown Kendall Master Plan charrette was formed with the help of Duany Plater-Zyberk under the direction of Chamber South.
The urban vision of Downtown Dadeland began in 1995 when the Chamber of Commerce, the county government and Kendall residents and businesses began working with Miami-Dade Transit, Florida's Eastward program, the South Florida Water Management District and other agencies to build consensus on the future of the neighborhood known as Downtown Dadeland. At that time, suburban Kendall's growth was sprawling around the Dadeland Mall.
With the addition of the final South Dade Metrorail station in the early 1980's and several large hotels and office buildings, including The Datran Center, the Dadeland area became a hub for business and shopping. Datran was designed by the late Jimmy Deen of South Miami.
Miami International Airport and Downtown Miami are easily accessible from State Road 826's interchange, located along Kendall Drive. Additionally, Downtown Dadeland is conveniently situated near the University of Miami, with access via the Metrorail system. Young professionals who work in the Datran complex as well as many who commute via the Metrorail to their jobs downtown are living in the Downtown Dadeland area.
Miami-Dade County's 1999 development code for Kendall was a blueprint for a massive transformation of the area. It included plans for 10 projects on 324 acres. Revised zoning set the stage to attract pedestrians, residents and mixed-use development with ground-floor shops and cafes. It also makes use of the county's big investment in mass transit, the MetroRail. Miami-Dade County helped create zoning codes for the massive plan of new urban development containing an architecturally varied cityscape designed around the pedestrian rather than the automobile.
Specifically, the county's metropolitan urban designation called for mixed-use designs as opposed to exclusively business or residential. Designs include retail components that meet the street, aesthetic pedestrian corridors, doors and windows facing streets, tightly framed streets to create a main-street feel along Kendall Drive, Dadeland Boulevard and Snapper Creek Canal, the three primary pedestrian corridors.
When fully built out and occupied, Downtown Kendall's population will be double the current size of Opa-Locka, according to county planner's estimate, with most residents living within walking distance of the Metrorail Rail. In contrast, the US Census in 2000 reported 3,800 residents in the eastern portion of Kendall, in unincorporated Miami-Dade County. Downtown Kendall's population is expected to cluster around Metrorail's Dadeland North and Dadeland South stations. This is a critical component of the county's plan to create population density around existing transit hubs, instead of sprawling development that clogs roads and highways.
Below are several of the projects and developers in Downtown Dadeland:
Downtown Dadeland - 416 condo units by Gulfside Development Co.
Marriott Courtyard (City Kendall) - 128 guest rooms by MDM Hotel Group
The Colonnade - 555 condominiums and townhouse units by Lennar Homes
Towers of Dadeland - 218 convertible apartments by The Green Companies
Dadeland Mall - 185 stores, the regional mall is known as one of Miami's premier centers
Most include a retail component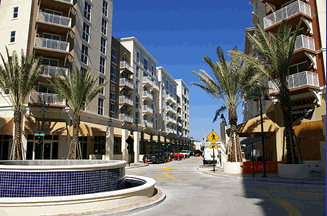 but are largely residential in nature, leading planners to forecast up to 35,000 new residents moving to the area. A large portion of Downtown Dadeland commercial and residential units remain vacant. This is because a majority of the units were purchased by speculators during pre-construction when the condominium market in South Florida was booming from the years 2003 to 2006. This oversupply of residential condominiums in the Downtown Kendall market area has affected the supply v. demand in the area extending marketing times. The absorption rate prior to the economic crisis of the last quarter of 2008 had been slow.
Of the new developments in this area Downtown Dadeland is the largest development, occupying 7½ acres of land, located at the old "Williamson Cadillac" site. The development contains seven buildings with approximately 125,000 square feet of retail space, and approximately 416 residential units. Anchor tenants include Pier 1, Cargo Kids, The Bombay Company, Chili's, Macaroni Grill, Men's Warehouse, and Sprint. A large ground level retail section of this site was recently taken back by the lender in foreclosure and will be re-marketed.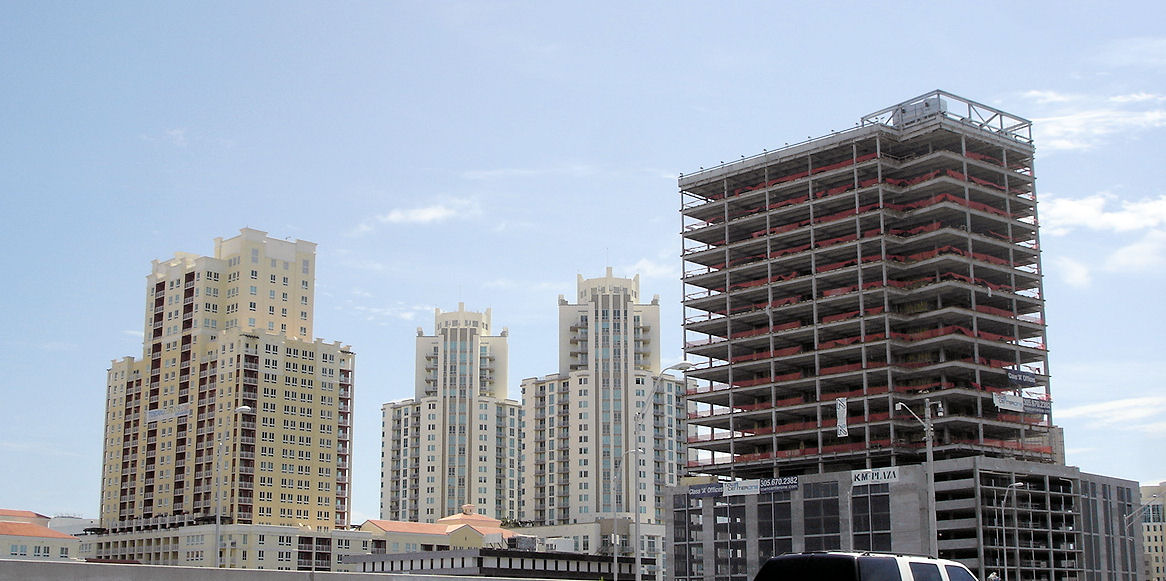 The photo above is Toscano, Metropolis and the new Town Center Dadeland One office tower being constructed adjacent to the Palmetto Expressway. The photo is taken from the Palmetto (State Road 826), looking southeast. The Downtown Dadeland complex is not shown in this photo.
&nbsp
Just Listed – New Rental 4/3
2/15/2018 5:06 PM
JUST LISTED RENTAL 9680 SW 96th Ct, Miami, FL 33176 $4,500 | BD: 4 | BA: 3 | SqFt: 2,240 Spacious 4/3 with a great floor plan. Beautifully remodeled home with large kitchen, gas range, S/S appliances, wood, and granite. Rooms open to the large patio overlooking pool, spa, and 28,009 sq. ft. fenced lot.... The post Read More
&nbsp
Best Views in Downtown Miami
2/15/2018 5:05 PM
Beautiful Home or Lucrative Investment Offered at $674,900 3 Beds, 2 Baths, 1,416 Sq. Ft. Go on vacation every day without ever leaving home! This beautiful three-bedroom, two bath condo is located in the heart of Downtown Miami. One parking spot (flat and next to the building entrance) is included, and you can valet a... The post Read More
&nbsp
Impeccable Design, Unobstructed views!
2/14/2018 3:22 PM
780 NE 69 St, #906  MLS# 10409428 This beautiful 1Bedroom 1.5 Bath, condo offers tranquility, location and security. Bay views, extra large balcony and top of the line renovations. French doors open to a spacious bedroom. Full service building includes valet, security, tennis courts, gym, heated pool, convenience store and lobby bar. A must...Read More
&nbsp
Beautiful Waterfront 3+Den/2.5 Property in the best gated community in Miramar – 12,600 SF corner lot – OPEN Sunday 2/18, 3-5 PM
2/14/2018 10:30 AM
You are invited – OPEN HOUSE Sunday 02/18, 3-5 PM This Beautiful Waterfront Property is nested in Riviera Isles. It offers 3 bedrooms, a den and 2 and a half bathrooms on a 12,600 sf corner lot and 2,514 SF. Enjoy the direct access and view on the lake – A sturdy 2004 built, renovated and... The post Read More
&nbsp
Grand Home on Anchorage Way in Coconut Grove – $6,498,000
2/12/2018 4:26 PM
This estate is superbly located in one of the most renowned gated communities in Coconut Grove, The Anchorage. The property is nestled behind impressive gates with 24-hour security. A classic and elegant Italian Palazzo style design with its unique entrance/courtyard, its distinctive interior characterized by beautiful wooden and marble floors, ...Read More
&nbsp
Newly Priced Mediterranean Beauty in Pinecrest!
2/12/2018 4:25 PM
5761 SW 107th St | Pinecrest Beds: 7 | Baths: 7.5 | SqFt: 8,150 New Price $2,549,000 FLOOR PLAN: FIRST FLOOR | SECOND FLOOR | GUEST HOUSE Graceful, elegant and stately, a true Mediterranean beauty awaits in a gated community within Miami's sought-after Pinecrest enclave. Surrounded by lush g...Read More
&nbsp
PARADISE AT SOUTHWEST RANCHES! 5BED/5.5BATH, PRIVATE OFFICE, TERRACE, POOL IN 2.3 ACRES OF LAND….OFFERED AT $1,685,000
2/11/2018 6:54 PM
  ENTER THROUGH THE PRIVATE GATES & TREE LINED DRIVEWAY TO THE HOME OF YOUR DREAMS IN SOUGHT OF SOUTHWEST RANCHES. THIS CUSTOM BUILT 5 BED, 5.5 BATH HOME SITS ON 2.3 ACRES OF WONDERLAND. FALL IN LOVE THE MOMENT YOU OPEN THE DOUBLE DOORS AND ARE WELCOMED BY A 16 FOOT CEILING LIVING ROOM... The post Read More
&nbsp
Deering Bay Progressive Open House Sunday 2/11 1-3pm – 16 Homes Open for Public Viewing!
2/10/2018 3:02 PM
Join the Sanabria Team for the first time ever, 16 beautiful homes open for public viewing at Miami's best kept secret, Deering Bay Yacht & Country Club, featuring an exquisite Arnold Palmer golf course and private club. These 16 stunning homes will be open from 1-3pm and we will have extended hours until 4pm.&...Read More
&nbsp
2201 Tequesta Way in North Grove Open House Saturday, Feb 10th from 1pm to 3pm Priced Under $800K
2/10/2018 3:02 PM
Located in desirable North Coconut Grove. This 3 cozy and welcoming bedrooms 3 bathrooms home will delight you. Bathed with light this sweet property offers a formal entrance, an expansive living room with gorgeous gleaming wood floors, a dining room large enough to host a very long table for all your holiday parties, a renovated... The p...Read More
&nbsp
MIAMI OPEN TENNIS TICKETS
2/10/2018 3:01 PM
COMPLETE TOURNAMENT PACKAGE 2 BOX SEATS ON NORTH END. WITH BOXHOLDER PARKING CALL ALICIA T GILBERT 305-586-3190 The post MIAMI OPEN TENNIS TICKETS appeared first on EWM Realty International....Read More
---
There was a problem returning the RSS feed.