George Merrick Entry Arches - City of Coral Gables - History
George E. Merrick (1886-1942) was a real estate developer who is best known as the planner and builder of the City of Coral Gables, Florida. It is one of the first planned communities in the United States. In 1921 the fist residential lots were sold in Coral Gables. Merrick offered free coral rock for building materials and many homes contained coral rock exterior walls. The historic Coral Gables entry arches, which also used the native coral, are designed in the Mediterranean theme of the architect Denman Fink's style and consistent with George Merrick's master plan for the City of Coral Gables. The important architects of that time were:
Walter de Garmo
Richard Kiehnel
Below is a map of the northern portion of the City of Coral Gables showing four historic arches and the new arch being constructed at the Old Spanish Village development east of Ponce de Leon Boulevard.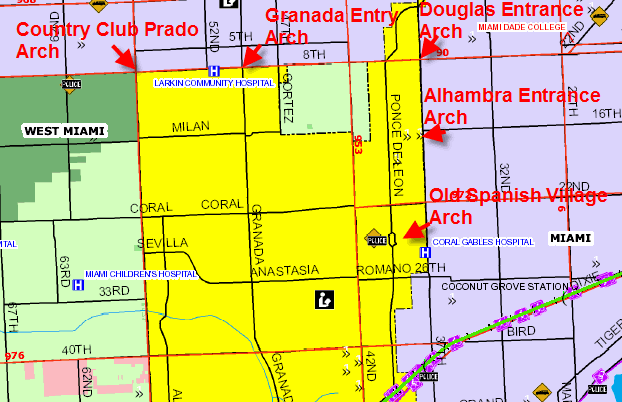 Granada Entry Arch, Coral Gables - Located at Granda Boulevard & S.W. 8th Street (Tamiami Trail).This arch is located on the south side of Tamiami Trial (also known as Calle Ocho or Eighth Street). Coral rock (limestone) from a local quary, later known as Venetian Pool, was likely used in its construction. The arch spans Granada Boulevard, which is a historic roadway in the City of Coral Gables. This north-south roadway travels through the heart of Coral Gables and along two public golf courses, the Granada and golf courses, both designed by Donald J. Ross. A painting titled Entry Arch to the City of Coral Gables shows the clay tile roof and flat arch of the Granada entry arch. The structure arch allows vehicles to pass underneath it entering and leaving the city.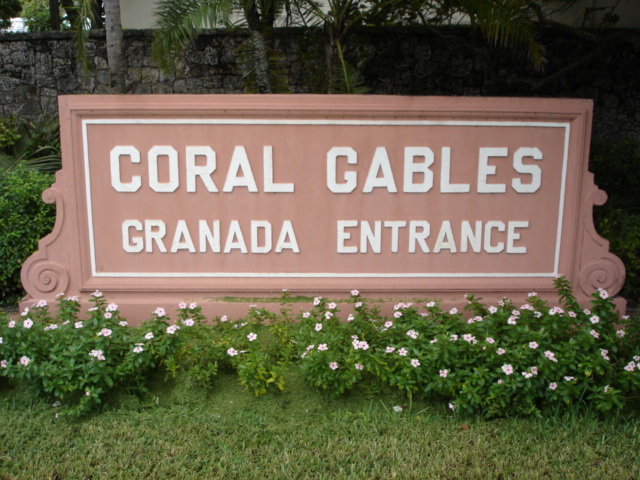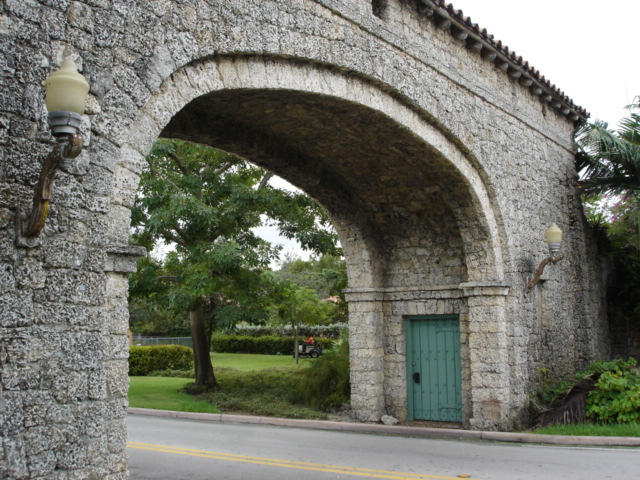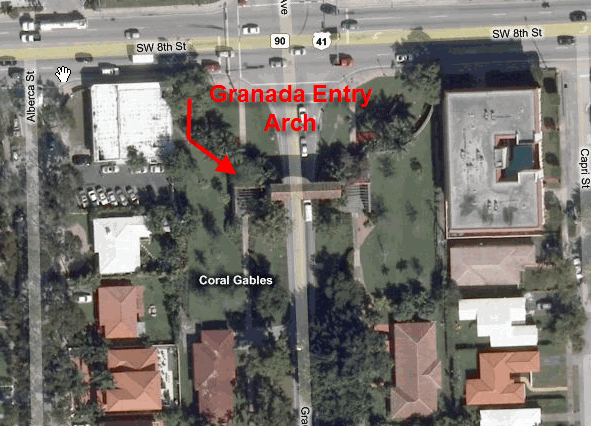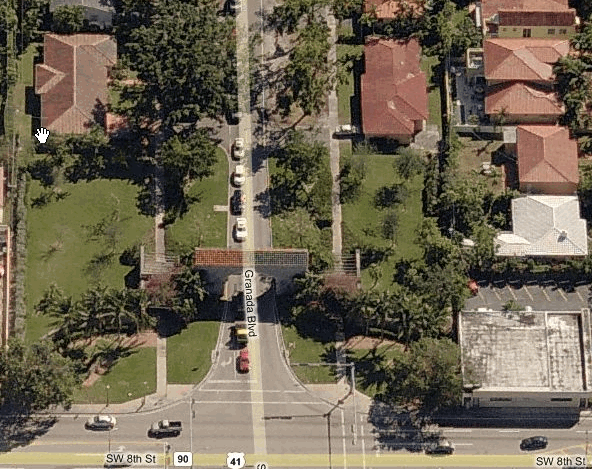 Country Club Prado Arch, Coral Gables -Located at the NW corner of the City of Coral Gables at S.W. 8th Street (Tamiami Trail) and S.W. 57th Avenue (Red Road). For years the Country Club Prado Arch has been a setting for photography. One often sees professional photographers at this site, and it is a favorite for wedding photos. There are two walkways covered by wood trellises providing interesting detail to the arches. Also, the structure is located on a center parkway running north and south which is similar to a piazza. Custom homes are located on both the east and west sides of the linear parkway.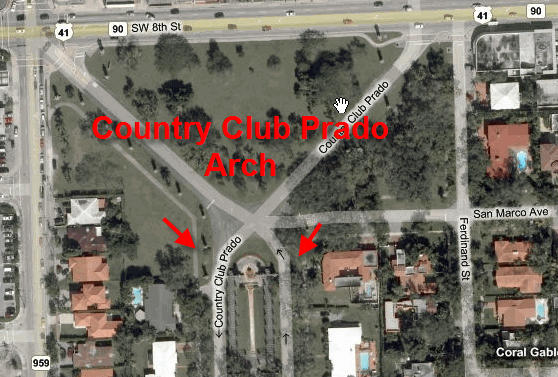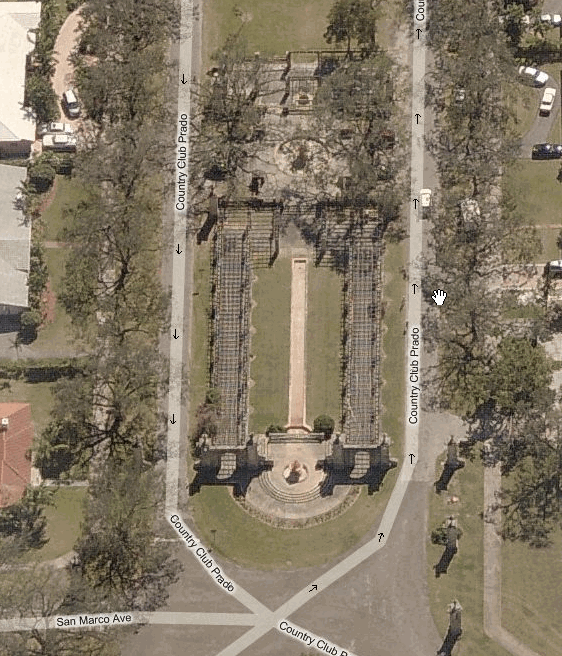 Alhambra Entrance Arch, Coral Gables - Located at S.W. 37 Avenue (Douglas Road), Majorca Avenue and Alhambra Circle.
The Alhambra entry arch is also known as the commercial entry to Coral Gables, as Alhambra Circle leads to the central business district of the City of Coral Gables and Miracle Mile. Miracle Mile is a well-known shopping district that has been revitalized over the past five years. At the west end of Miracle Mile is the Coral Gables City Hall located at 405 Biltmore Way. Designed in the "Mediterranean Revival" style, the architects were Denmond Fink and Phineas Paist. It is a major feature of Coral Gables' master plan and has an unobstructed views from both Le Jeune Road and Miracle Mile.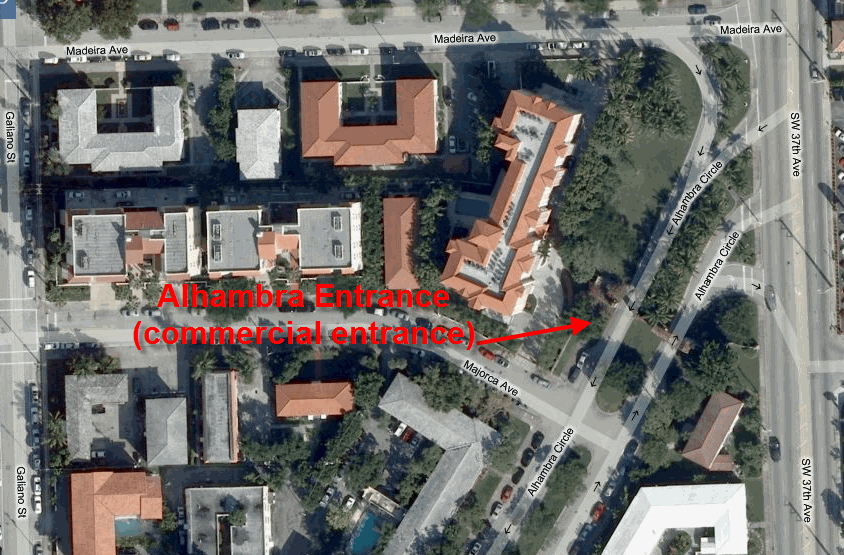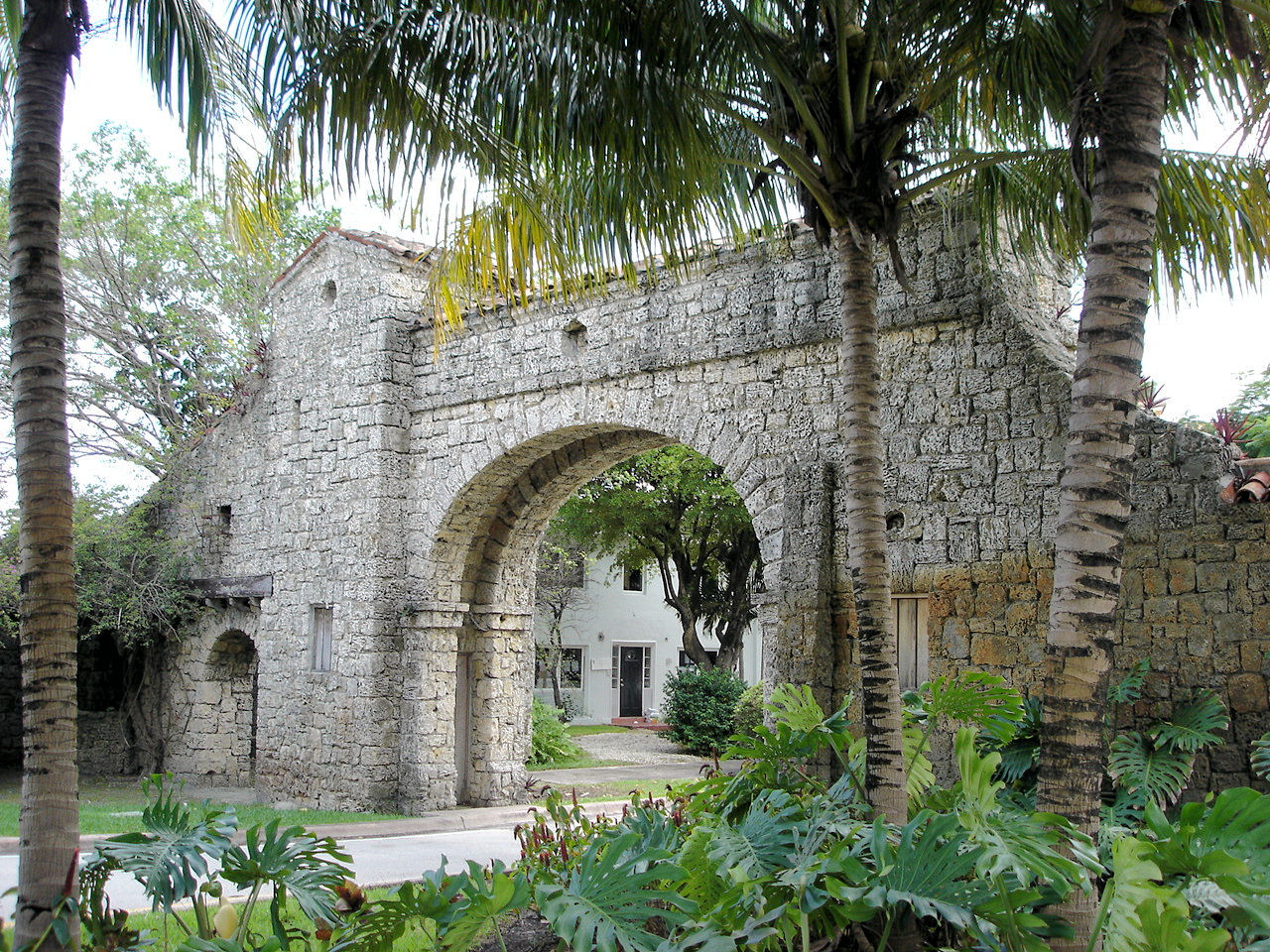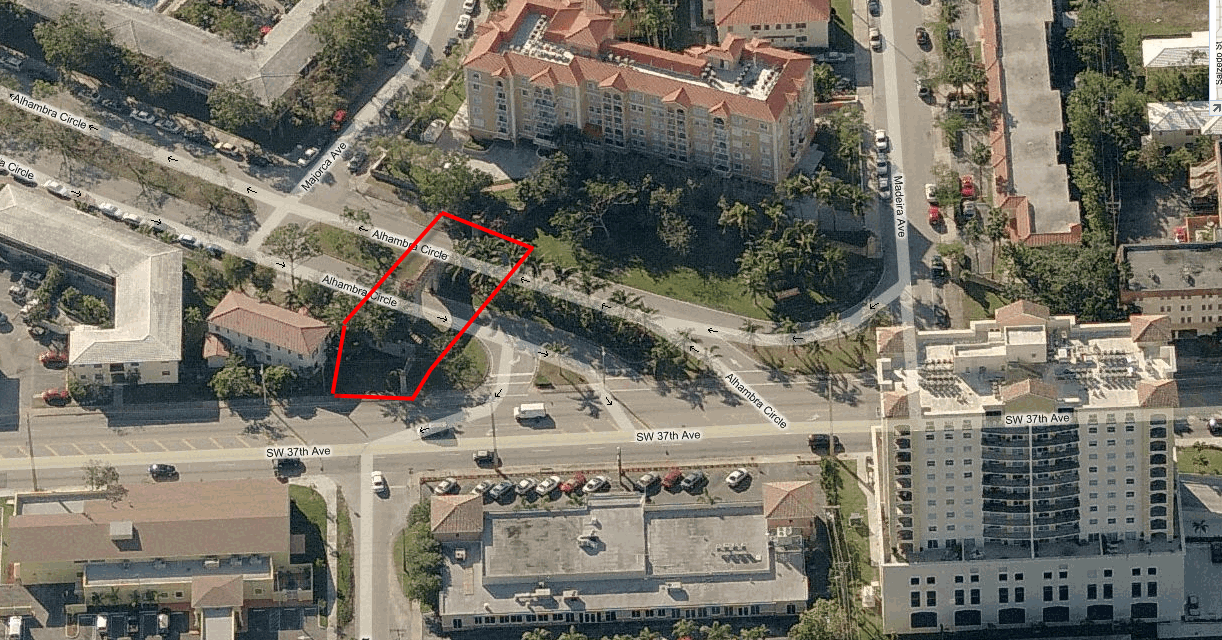 Douglas Entrance - Located at the SW corner of S.W. 8th Street (Tamiami Trail) and S.W. 37th Avenue (Douglas Road).
The Douglas Entrance was a collaboration between architects: Walter de Garmo, Denman Fink, and Phineas E. Paist. This is considered the main entrance to the City of Coral Gables. The architectural offices of Splliis Candella are located in a portion of the Douglas Entrance complex. The photo below is looking south and the building is angled 45 degrees along east Ponce de Leon Boulevard. The arch is so large that one can walk inside of it and over the roadway. A portion of its interior is the architecture office.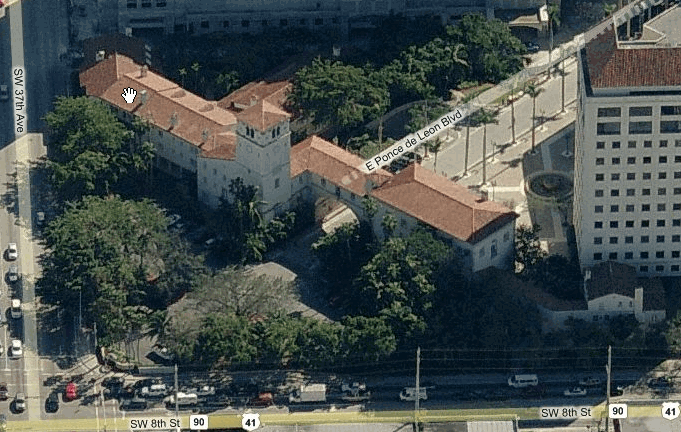 Old Spanish Village Arch, Coral Gables - Located along Coconut Grove Drive and forming part of the perimeter of the Old Spanish Village development. The arch is located at the bottom left of this close up photo of the model. A small rotunda is located to the east of the arch. This new development is located in the city's historic Arts and Crafts Section. The historic Arts Center and Architectural Headquarters of George Merrick's Coral Gables is part of the overall site plan, and the building was recently restored and houses an exhibit of the Coral Gables Museum. The location is within walking distance of Miracle Mile and the central business district to the north.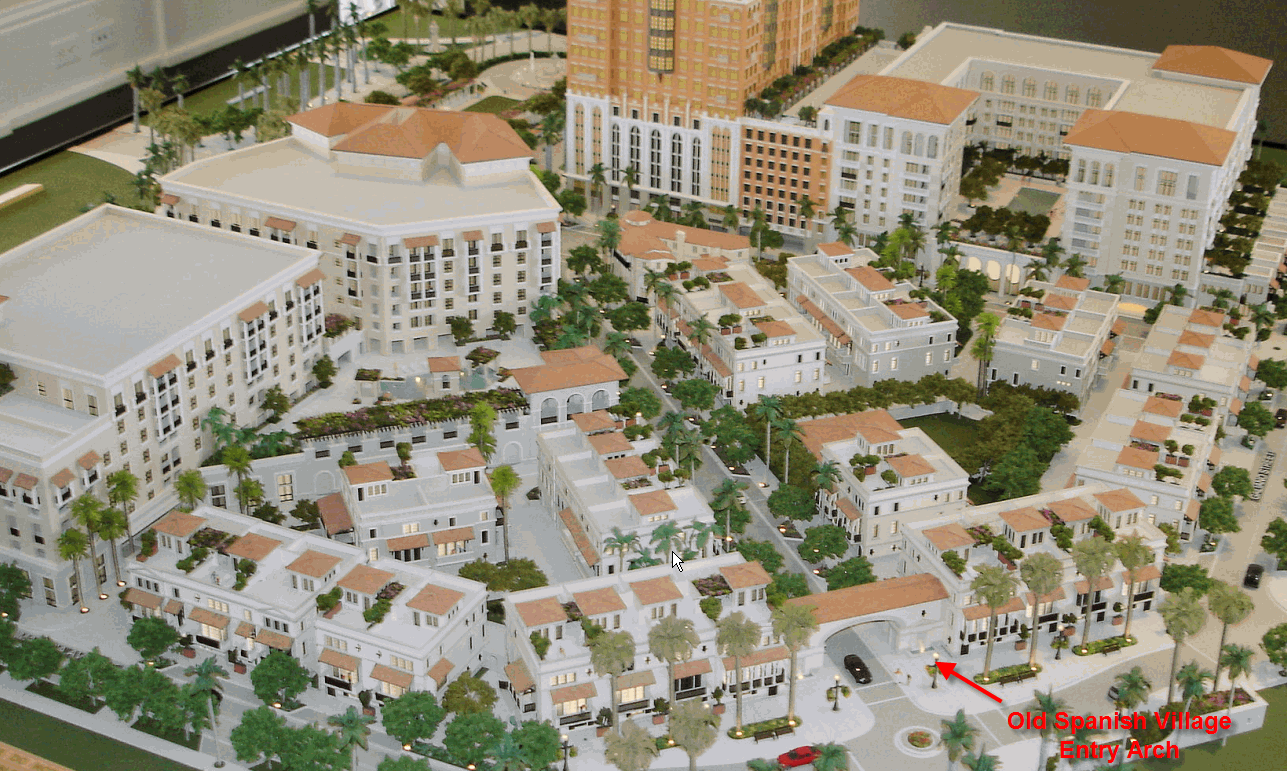 Links:
Miami Senior High School - 1930

Kiehnel and Elliott, architects
&nbsp
After three decades, the annual yacht show is leaving Miami Beach for new waters
2/19/2018 1:33 PM
Small business owners are feeling more optimistic than they have in years, according to several surveys. The reports say revenue is up.Read More
&nbsp
Seven-run explosion guides Miami past Rutgers in second game of series
2/18/2018 7:03 PM
It wasn"t always pretty, but the Miami Hurricanes clinched the series win with an 8-5 victory over Rutgers Saturday, Feb. 17, night at Mark Light Field. Despite suffering an early 2-0 deficit, the Canes poured in seven runs in the third inning to build a lead from which ...Read More
&nbsp
Miami-Dade Commission wanted a police review board, but the mayor said no
2/18/2018 7:32 AM
Saying Miami-Dade"s police officers already receive enough scrutiny and oversight, Mayor Carlos Gimenez on Friday issued a rare veto and blocked reviving the county"s dormant review board for probing misconduct . "The County already has numerous internal mechanisms and external entities that oversee and investigate complaints against any County ...Read More
&nbsp
State investigated school shooting suspect after self-harm
2/17/2018 5:35 PM
People comfort each other at a public memorial for the victims of the Wednesday shooting at Marjory Stoneman Douglas High School, in Parkland, Fla., Friday, Feb. 16, 2018. Nikolas Cruz, a former student, was charged with 17 c... .Read More
&nbsp
Florida investigated accused school shooter after he cut himself on video
2/17/2018 1:20 PM
Florida"s child welfare agency investigated the suspect in a school shooting that killed 17 people after he cut himself in a video but found him stable, according to state records. The Miami Herald obtained records from Florida"s Department of Children and Families and reported Saturday that Nikolas Cruz posted a video on the social media networ...Read More
&nbsp
The Latest: Gun control activist booted from GOP fundraiser
2/17/2018 9:03 AM
An activist and teacher who wants gun control laws was removed from a Miami-area GOP fundraiser after confronting House Speaker Paul Ryan about this week"s mass shooting at a Florida school. The Miami Herald reports that Maria Thorne, a Key Biscayne fifth grade teacher, said she ...Read More
&nbsp
Could NOAA leave Virginia Key? The Village Council will try to convince the agency not to.
2/17/2018 4:44 AM
The work done by the National Oceanic and Atmospheric Administration helps address local environmental and weather threats and enhances South Florida"s overall reputation - so losing the agency would be a major blow to the area. With that in mind, the Village Council passed a resolution February 13 encouraging NOAA to keep its two research facil...Read More
&nbsp
Drake Drops A Milli On Good Deeds For "God"s Plan" Video
2/17/2018 12:34 AM
At the beginning of Drake"s video for "God"s Plan," the masterminds behind the visual reveal they had a budget of $996,631.90. Spearheaded by Director X and Karena Evans, "God"s Plan" captures the spirit of the Miami people and documents all of Drake"s good deeds.Read More
&nbsp
Days after mass shooting, gun shows to proceed in Hollywood, Miami
2/16/2018 8:28 PM
In Las Vegas, a gun show moved forward several months after a mass shooting that killed 59 people. In the wake of the mass shooting that took 17 lives at Marjory Stoneman Douglas High School in Parkland, a pair of two-day gun shows are opening their doors to buyers and sellers in <...Read More
&nbsp
Miami-Dade suing Jeffrey Loria and the Marlins over profit-sharing dispute
2/16/2018 8:28 PM
Miami-Dade is taking Jeffrey Loria and Derek Jeter to court over the former Marlins owner"s claim that the county is owed noting from a profit-sharing deal tied to his $1.2 billion sale of the baseball franchise. Joe Martinez, a Miami-Dade commissioner, said a county lawyer told him...Read More
---