George Merrick Entry Arches - City of Coral Gables - History
George E. Merrick (1886-1942) was a real estate developer who is best known as the planner and builder of the City of Coral Gables, Florida. It is one of the first planned communities in the United States. In 1921 the fist residential lots were sold in Coral Gables. Merrick offered free coral rock for building materials and many homes contained coral rock exterior walls. The historic Coral Gables entry arches, which also used the native coral, are designed in the Mediterranean theme of the architect Denman Fink's style and consistent with George Merrick's master plan for the City of Coral Gables. The important architects of that time were:
Walter de Garmo
Richard Kiehnel
Below is a map of the northern portion of the City of Coral Gables showing four historic arches and the new arch being constructed at the Old Spanish Village development east of Ponce de Leon Boulevard.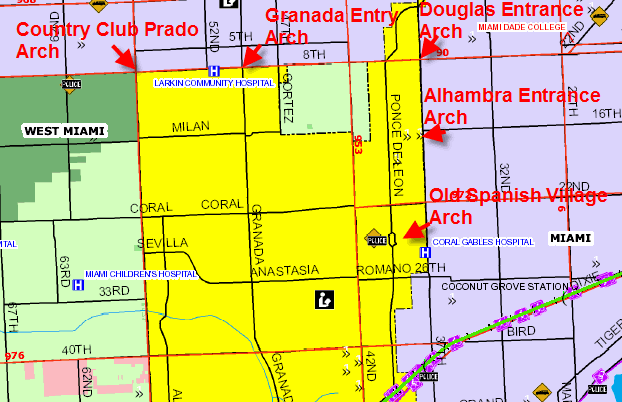 Granada Entry Arch, Coral Gables - Located at Granda Boulevard & S.W. 8th Street (Tamiami Trail).This arch is located on the south side of Tamiami Trial (also known as Calle Ocho or Eighth Street). Coral rock (limestone) from a local quary, later known as Venetian Pool, was likely used in its construction. The arch spans Granada Boulevard, which is a historic roadway in the City of Coral Gables. This north-south roadway travels through the heart of Coral Gables and along two public golf courses, the Granada and golf courses, both designed by Donald J. Ross. A painting titled Entry Arch to the City of Coral Gables shows the clay tile roof and flat arch of the Granada entry arch. The structure arch allows vehicles to pass underneath it entering and leaving the city.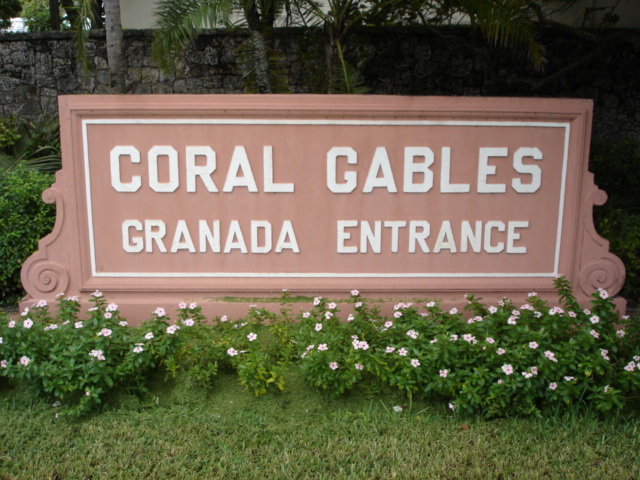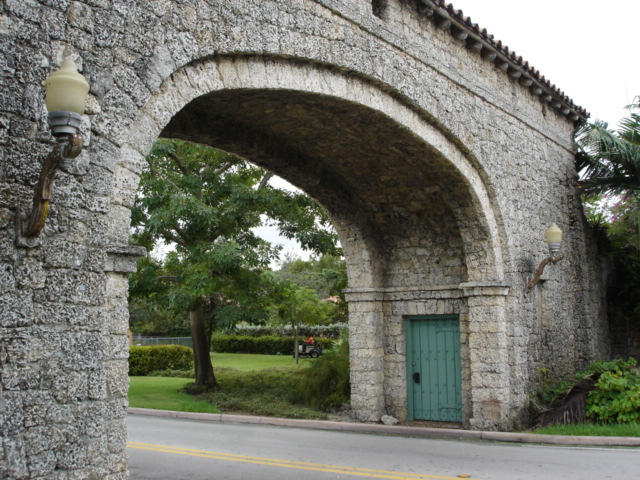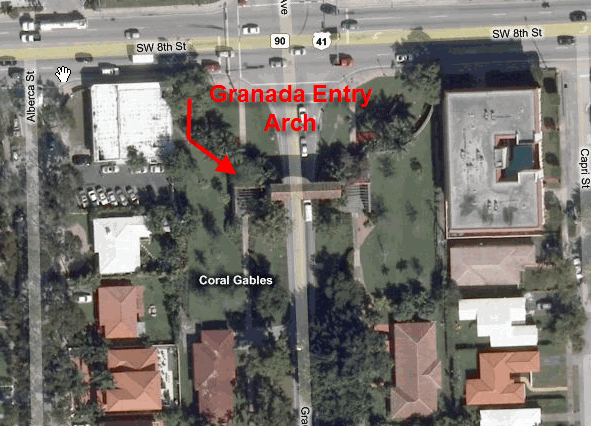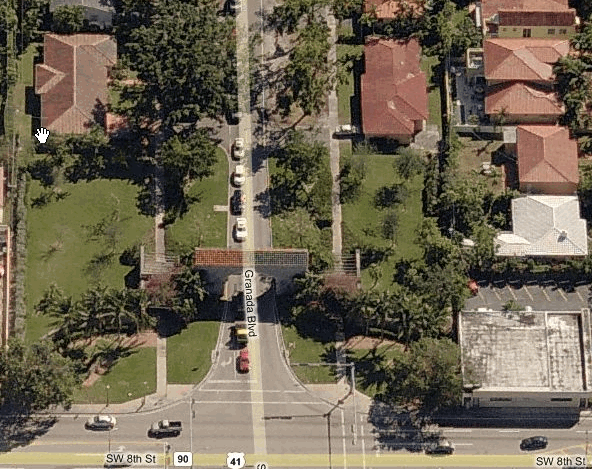 Country Club Prado Arch, Coral Gables -Located at the NW corner of the City of Coral Gables at S.W. 8th Street (Tamiami Trail) and S.W. 57th Avenue (Red Road). For years the Country Club Prado Arch has been a setting for photography. One often sees professional photographers at this site, and it is a favorite for wedding photos. There are two walkways covered by wood trellises providing interesting detail to the arches. Also, the structure is located on a center parkway running north and south which is similar to a piazza. Custom homes are located on both the east and west sides of the linear parkway.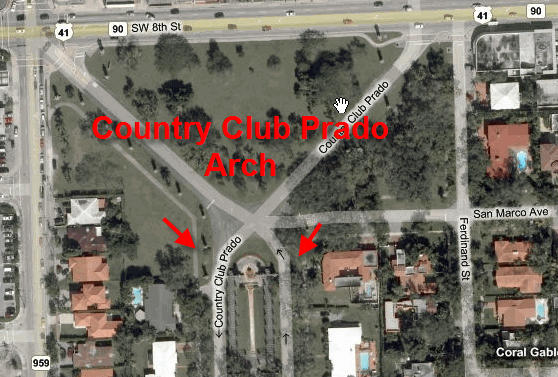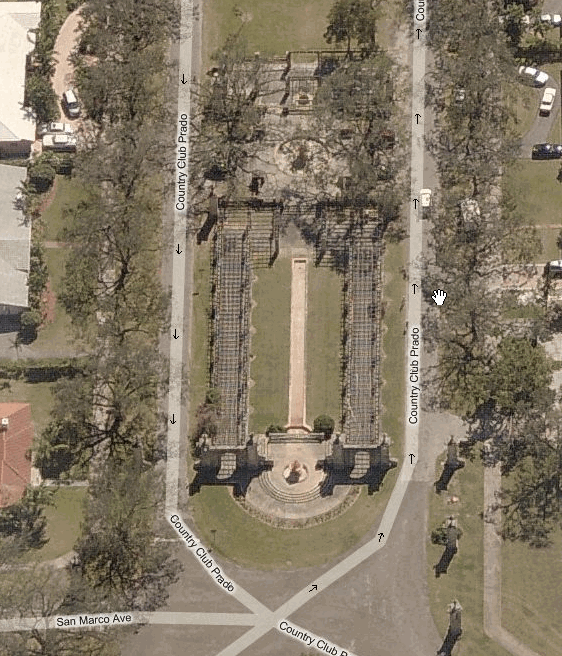 Alhambra Entrance Arch, Coral Gables - Located at S.W. 37 Avenue (Douglas Road), Majorca Avenue and Alhambra Circle.
The Alhambra entry arch is also known as the commercial entry to Coral Gables, as Alhambra Circle leads to the central business district of the City of Coral Gables and Miracle Mile. Miracle Mile is a well-known shopping district that has been revitalized over the past five years. At the west end of Miracle Mile is the Coral Gables City Hall located at 405 Biltmore Way. Designed in the "Mediterranean Revival" style, the architects were Denmond Fink and Phineas Paist. It is a major feature of Coral Gables' master plan and has an unobstructed views from both Le Jeune Road and Miracle Mile.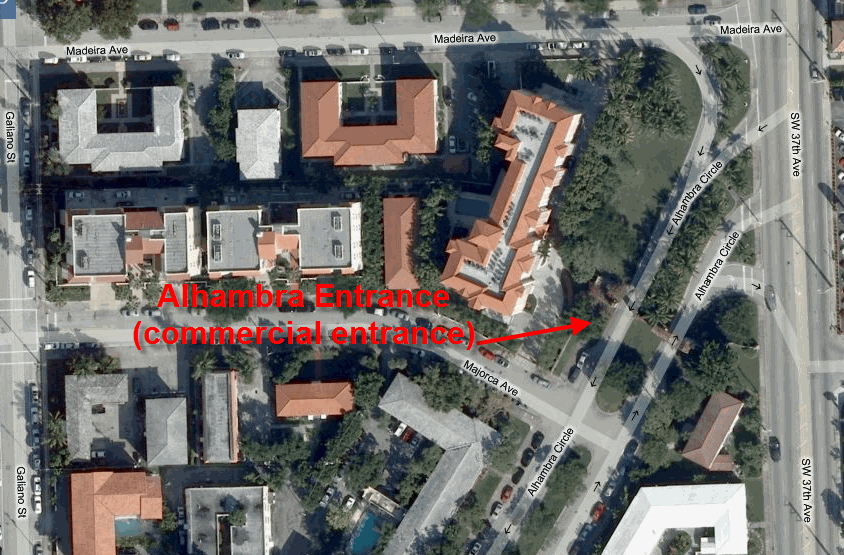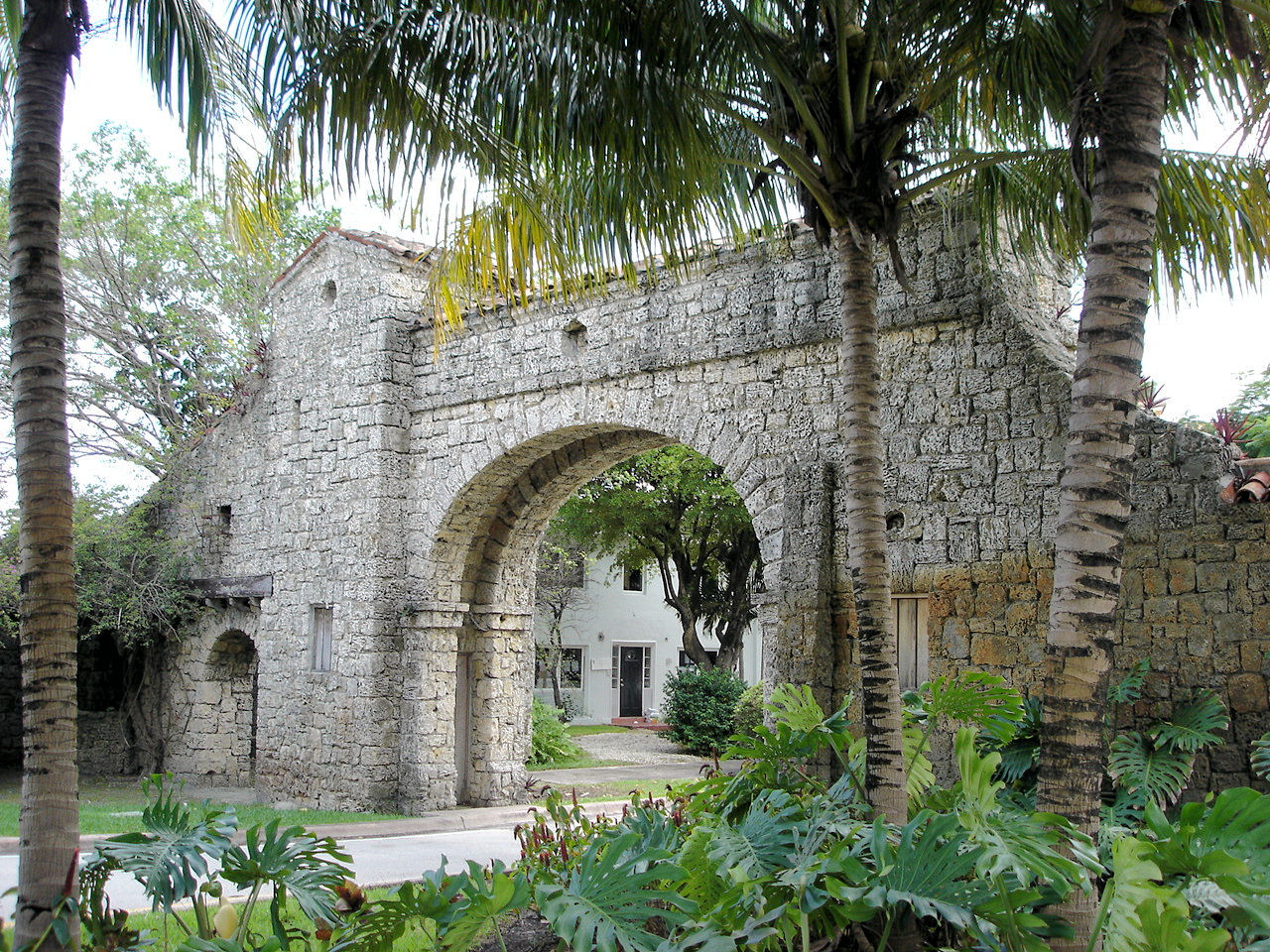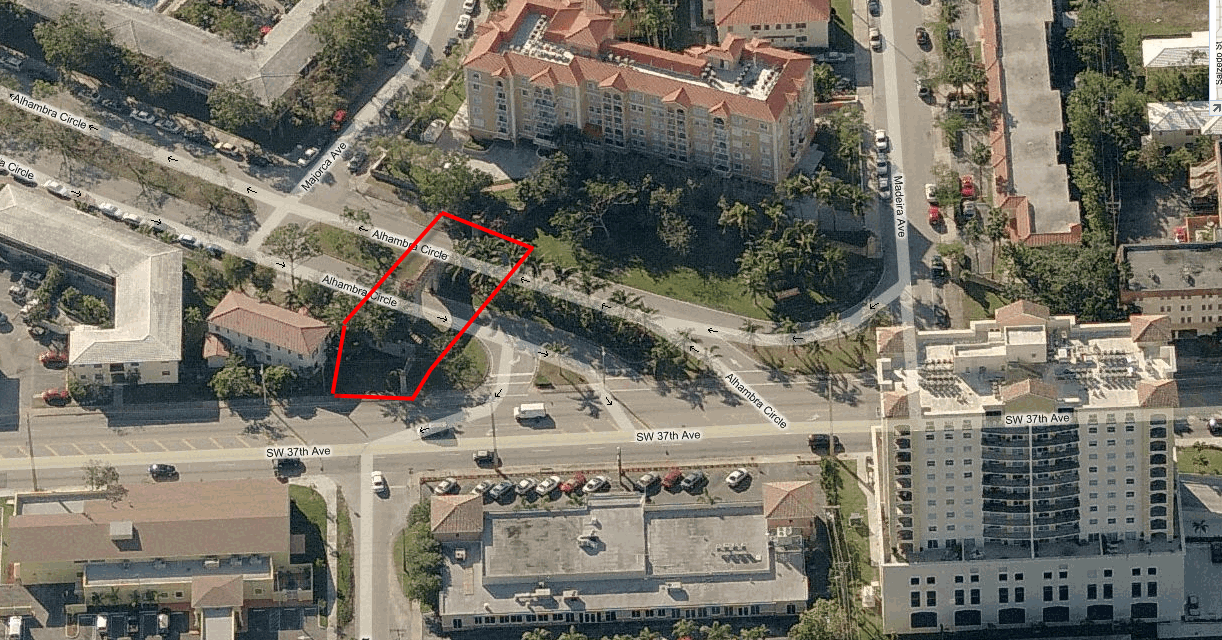 Douglas Entrance - Located at the SW corner of S.W. 8th Street (Tamiami Trail) and S.W. 37th Avenue (Douglas Road).
The Douglas Entrance was a collaboration between architects: Walter de Garmo, Denman Fink, and Phineas E. Paist. This is considered the main entrance to the City of Coral Gables. The architectural offices of Splliis Candella are located in a portion of the Douglas Entrance complex. The photo below is looking south and the building is angled 45 degrees along east Ponce de Leon Boulevard. The arch is so large that one can walk inside of it and over the roadway. A portion of its interior is the architecture office.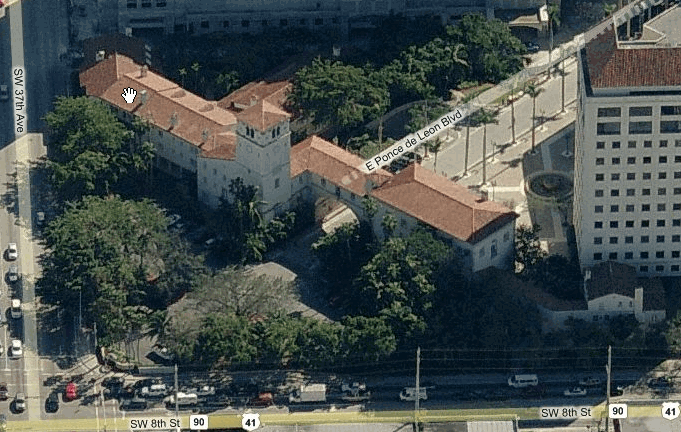 Old Spanish Village Arch, Coral Gables - Located along Coconut Grove Drive and forming part of the perimeter of the Old Spanish Village development. The arch is located at the bottom left of this close up photo of the model. A small rotunda is located to the east of the arch. This new development is located in the city's historic Arts and Crafts Section. The historic Arts Center and Architectural Headquarters of George Merrick's Coral Gables is part of the overall site plan, and the building was recently restored and houses an exhibit of the Coral Gables Museum. The location is within walking distance of Miracle Mile and the central business district to the north.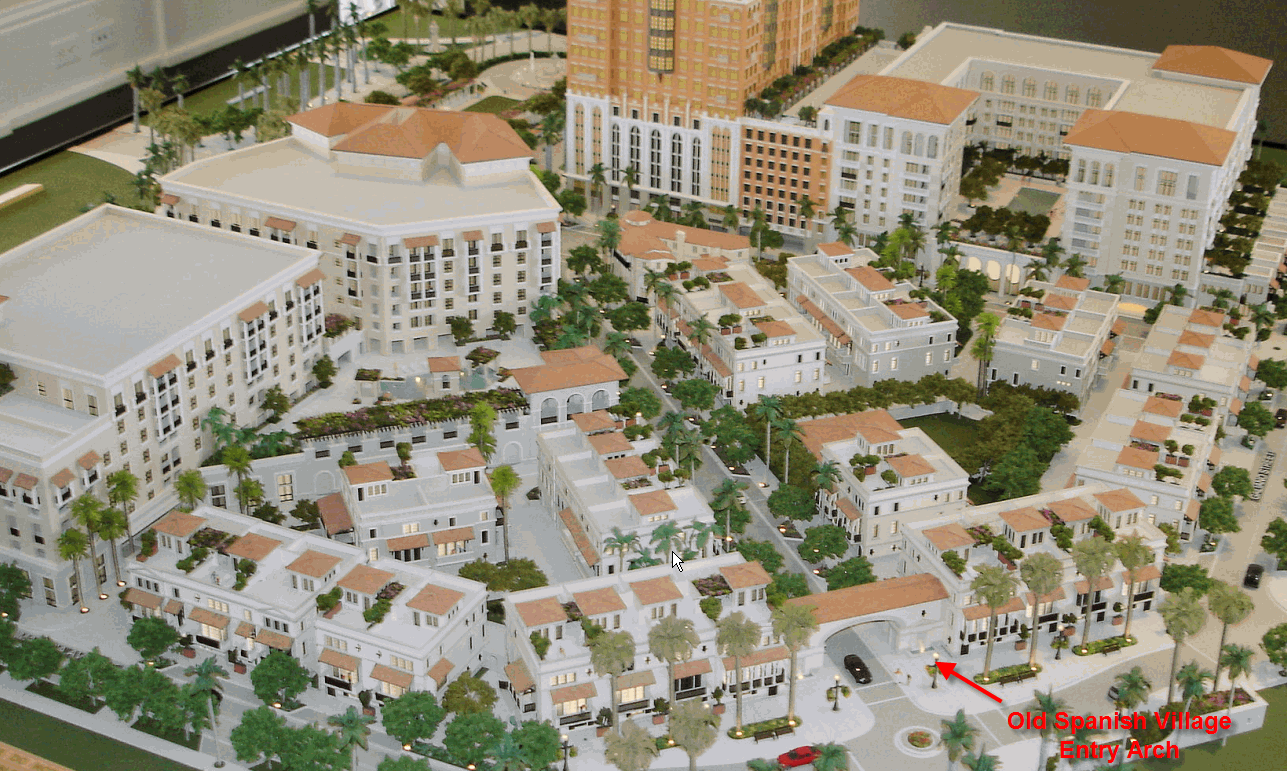 Links:
Miami Senior High School - 1930

Kiehnel and Elliott, architects
&nbsp
Put it down: Key Biscayne"s Debbie Wanninkhof shares her personal...
10/24/2017 5:48 AM
Life lessons and a legacy that continues to make an impact on others is the ongoing contribution Key Biscayne native Patrick Wanninkhof embodies over two years after his untimely death, as his loving family keeps his memory alive. On October 10, Debbie Wanninkhof, Patrick"s mother, held a Facebook Live presentation from the Lighthouse Room of th...Read More
&nbsp
Herea s when early voting starts for Miami Beach, Miami, Homestead and Hialeah
10/23/2017 2:42 PM
Two weeks of early voting began Monday for Miami Beach"s municipal election, the earliest of the four cities that have early voting sites. Miami Beach residents can vote in the general and special elections at Miami Beach City Hall, 1700 Convention Center Drive; and North Shore ...Read More
&nbsp
Endless Construction is Killing Small Businesses in Little Havana
10/23/2017 12:27 PM
Gnarled wires, rubble, and a crushed can of pear nectar mark the entrance to Edukos, Little Havana"s homey Venezuelan tavern. Inside, John Guilarte, the restaurant"s freckled 34-year-old owner, anxiously wipes down the bar counter, desperate for his first customer of the night.Read More
&nbsp
Manuel Artime Theater Is Competing for Funding With Historic Sites Across the Country
10/23/2017 10:06 AM
In January, the National Trust for Historic Preservation designated Little Havana as a National Treasure , just two years after it listed the neighborhood as one of 11 Most Endangered Historic Places in the U.S. The Trust, along with Partners in Preservation and Main Street America, implemented a "Vote Your Main Street" campaign that lets the pu...Read More
&nbsp
Florida 10 mins ago 3:45 a.m.FBI unravels plot to bomb South Florida mall
10/23/2017 3:26 AM
A plot to blow up Dolphin Mall was foiled by federal agents in an undercover operation that led to the arrest of a man from Miami. According to authorities, Vicente Solano was acting alone as he planned a weapons of mass destruction attack on the Dolphin Mall in Doral, the Miami Herald reported.Read More
&nbsp
New Chair Ken Kistner is welcomed by ChamberSOUTH in an all-American fashion at Annual Gala
10/22/2017 4:26 PM
The 2017 Gala served as a formal welcome to incoming Chairman Ken Kistner, of CBT College . Also pictured are : Attorney Dexter Lehtinen, outgoing Chair Joe Gallaher of NAI Miami, Palmetto Bay Councilwoman Karyn Cunningham, South Miami Mayor Philip Stoddard, Read More
&nbsp
More nursing home legislation proposed in the wake of Hurricane Irma
10/21/2017 9:29 PM
A South Florida state senator has filed a bill that would require nursing homes and other facilities to have generators capable of providing backup power for up to four days. Sen. Daphne Campbell, D-Miami, filed the measure this week, in response to the deaths related to a Broward Cou...Read More
&nbsp
Miami man inspired by ISIS arrested on charge of trying to blow up a bomb at Dolphin Mall
10/21/2017 1:02 PM
A Miami man suspected of being inspired by Islamic extremists was arrested Friday night on a charge of attempting to blow up a bomb at the Dolphin Mall by FBI counter-terrorism agents in an undercover operation. Vicente Solano, w...Read More
&nbsp
IberiaBank to acquire Coral Gables-based Gibraltar Private Bank & Trust
10/21/2017 4:36 AM
The holding company of IberiaBank announced late Thursday that it plans to acquire Coral Gables-based Gibraltar Private Bank & Trust Co.Read More
&nbsp
Rick Ross Shares His Latest Track, "TipToe"N"
10/21/2017 12:31 AM
After dropping the music video for the track "Santorini Greece" off his latest album Rather You Than Me , Rick Ross has just released his latest single "TipToe"N." The song pairs Ross"s deep voice and well-refined flow over a hypnotic Ben Billions-produced beat.Read More
---